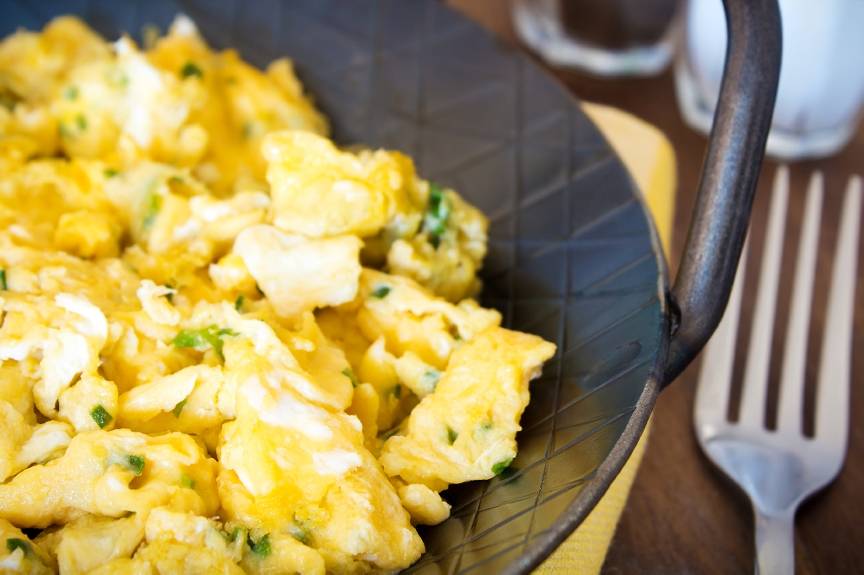 How to make them
We're starting simple with our first egg recipe. This is one of our favorite ways to cook scrambled eggs. We call them silky eggs. They take a little longer than your typical scrambled egg. But we find they're perfect for making while you're busy doing other things. Just get them started and then stir occasionally. There are two keys to making these well: patience and low heat. Recipe adapted from Mark Bittman's How to Cook Everything.
Ingredients
4 or 5 eggs from pasture-raised chickens

2 tablespoons cream

2 tablespoons butter

Steps

1. Crack the eggs into a bowl and beat them just until the yolks and whites are combined. Season with salt and pepper, then beat in the cream.

2. Heat a non-stick skillet on medium heat for about a minute, then remove. Add butter and swirl around. Then, (this is important), turn the heat to low.

3. Add the eggs to the skillet and cook over low heat, stirring occasionally. We use the stove's lowest setting. At first nothing will happen, but after 10 minutes or so the eggs will begin to form curds. Do not lose patience. Keep stirring, breaking up the curds as they form, until the mixture is a mass of soft curds. This will take 30 minutes or more. Serve immediately.